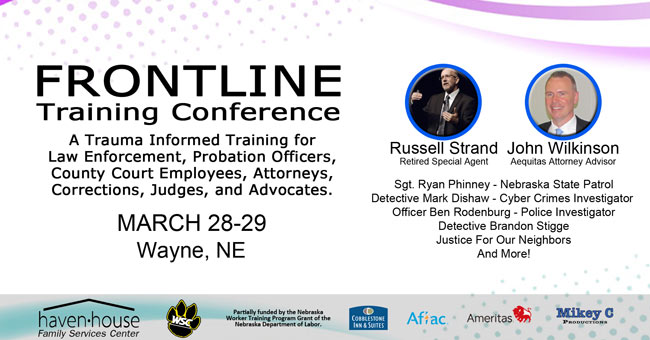 DESCRIPTION
A Trauma Informed Training for Law Enforcement, Probation Officers,
County Court Employees, Attorneys, Corrections, Judges, and Advocates.
Register today and secure your spot at the Frontline Training Conference.
All registrations include a catered meal for the day(s) you register for.
REGISTRATION COST:
$20 per day or $35 to attend both days
*Cost Includes lunch*
"I am excited that a training of this magnitude with
top of the line trainers is coming to Northeast Nebraska. 
This will be a valuable training for anyone who works with victims of crime."
-Local DV/SA Advocate
---
Day 1 (March 28th – 8:30am to 5:00pm) Training:
Featured Trainers:
John Wilkinson – Aequitas Attorney Advisor
Sgt. Ryan Phinney – Nebraska State Patrol
Detective Mark Dishaw – Cyber Crimes Investigator/FBI Child Exploitation Task Force
Detective Brandon Stigge – Cyber Crimes/FBI Child Exploitation Task Force
Officer Ben Rodenborg – Police Investigator
Dearra Godinez – Justice for Our Neighbors – Rural Capacity Building Attorney
Anna Deal – Justice for Our Neighbors
*Additional trainers announced soon!
Training Focuses:
Case Forensics
Case Studies
Digital Evidence: Collection, Preservation, & Prosecution
Identifying Subtle Signs of Domestic Violence & Sexual Assault
Multi Cultural Training
Sighting Domestic Violence When It's Not Physical.
Working Cohesively Amongst Agencies
Day 2 (March 29th – 8:30am to 5:00pm) Training:
Featured Trainer:
Training Focuses:
Effective Interview Technique for Victims, Suspects, and Witnesses to Facilitate and Collect Accurate Information
Elements of Neurobiology of Trauma
Forensic Experiential Trauma Interview
Additional Training on Identifying Subtle Signs of Domestic Violence & Sexual Assault
Understanding the context of the experience, before, during, and after the assault
Understanding the impact of trauma and normal reactions to trauma
Working with victims of domestic violence and sexual assault cases
---
This training conference is made possible by joint partnership of Haven House & the Criminal Justice Department of Wayne State College.
Need lodging for this training? 
Stay at Cobblestone in Wayne.
*This training is partially funded by the Nebraska Worker Training Program Grant*
Additional sponsors for this training conference include:
Mikey C Productions, Ameritas, and Aflac.
*Please register and submit payment by March 14th*
*FAQs located at bottom of page*
CONFIRMED TRAINERS

Russell W. Strand
Retired Special Agent
BIO

 John Wilkinson
Aequitas Attorney Advisor
BIO

Ryan Phinney & Survivor
"He Didn't Hit Her"
Nebraska State Patrol

Officer Ben Rodenburg
Police Detective


Detective Mark Dishaw
Douglas County Sheriff's office
Cyber Crimes
FBI Child Exploitation Task Force


Detective Brandon Stigge
Papillion Police Department
Computer Forensics
FBI Child Exploitation Task Force

Anna Deal
Justice For Our Neighbors

Dearra Godinez
Rural Capacity Building Attorney
Justice For Our Neighbors

Additional Trainers Announced Soon!
*Please register and submit payment by March 14th*

FAQs
How can I contact the organizer with any questions?
If you have questions about this training please email joshs@havenhousefsc.org or call 402-375-5433.
Is there a finalized schedule and agenda?
We are still finalizing the schedule for the training, but as soon as it is ready we will post it on this page, and will also send it to everyone who have already registered.
The tentative start and end times for this training are from 8:30am to 5:00pm on both days.
Where on Wayne State College will this be held?
Depending on amount of registrants, venue on campus may change.  Final details with parking information and exact venue on Wayne State College campus will be released by March 1st.
Who will benefit from this training?
All professionals who work with victims of crime or perpetrators will benefit from this training. This includes but is not limited to law enforcement, attorneys, prosecutors, advocates, county court employees, parole/probation officers, cpa/aps Investigators, judges, and any other professions who have a desire to increase their skill sets to better serve victims of crime or bring perpetrators to justice.
Can this training be used as continued education hours for law enforcement?
We have had many law enforcement agencies share they will be using this event for their required continued education hours for 2018.
Will lunch be provided?
Yes the registration costs will include a delicous on-site catered lunch.
Will there be a cost associated with this training?
Yes, this training will cost $20 per day.  You can also register to attend both days for only $35.  This includes lunch for both days too!
Is overnight lodging available in Wayne?
Yes there is. The Cobblestone Hotel is a local option if you are traveling from out of the area and need overnight accomodations.
Can I cancel and receive a refund?
Unfortunately at this time we are unable to offer refunds.  However, if you are not able to attend, let our team know and we can transfer your registration fee to another individual from your agency.
How do I submit my payment for this training?
After you click the "Register Now" button you will be taken to a screen where you can enter all your information.  After you have entered in your information and submitted that form, you will be redirected to a page where you can choose to pay online with a credit/debit card or pay with a check via mail.   Submit your payment by selecting one of these options.  You registration is not finalized until payment is received.
*Please register and submit payment by March 14th*