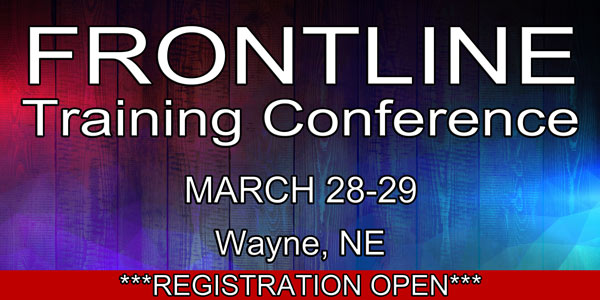 DESCRIPTION
A Trauma Informed Training for Law Enforcement, Probation Officers, County Court Employees, Attorneys, Corrections, Judges, and Advocates.
Pre-Register today to be notified when official registration opens. There is no cost or commitment to pre-register. It will simply give you the first opportunity to register and hold open a spot for a limited time.
REGISTRATION COST: TBA
*Costs are estimated to be $25 per day*
*registration cost will include lunch*
"I am so excited that a training of this magnitude with
top of the line trainers is coming to Northeast Nebraska. 
This will be a valuable training for anyone who works with victims of crime."
-Local DV/SA Advocate
---

Day 1 (March 28th) Training:
Case Forensics
Case Studies
Digital Evidence: Collection, Preservation, & Prosecution
Identifying Subtle Signs of Domestic Violence & Sexual Assault
Multi Cultural Training
Sighting Domestic Violence When It's Not Physical.
Working Cohesively Amongst Agencies
Day 2 (March 29th) Training:
Effective Interview Technique for Victims, Suspects, and Witnesses to Facilitate and Collect Accurate Information
Elements of Neurobiology of Trauma
Forensic Experiential Trauma Interview
Additional Training on Identifying Subtle Signs of Domestic Violence & Sexual Assault
Understanding the context of the experience, before, during, and after the assault
Understanding the impact of trauma and normal reactions to trauma
Working with victims of domestic violence and sexual assault cases
---
This training conference is made possible by joint partnership of Haven House & the Criminal Justice Department of Wayne State College.
Need Lodging for this training? 
Stay at Cobblestone in Wayne.
*This training is partially funded by the Nebraska Worker Training Program Grant*

CONFIRMED TRAINERS
Russell W. Strand is a retired Special Agent and is a managing partner and co-found of Strand & Heitman Innovative Forensice Techniques (SHIFT) LLC and is an internationally recognized expert in child abuse and sexual assault investigations, domestic violence intervention, forensic interviews, trauma response, and culture change.Russell began his law enforcement career in 1975 as a military police patrol officer, performed duties as a military police investigator, and retired 22 years later as a senior special agent in the United States Army Criminal Investigations Command. He was awared the Military Police Regiments highest awards including the Order of the Marechaussee Medal in Silver and was inducted into the United States Army Military Police Regimental Hall of Fame.Russell has become nationally and internationally recognized for his specialized knowledge and experience. Because of his tireless efforts to protect victims of crime within the Department of Defense, across the nation, and around the world, he was selected to receive the 2012 End Violence Against Women International Visionary Award. He also received the St. Luke's Health System's Forensic Committee Visionary Awared for years of executive direction, eduction, and leadership in providing effective multidisciplinary training, education, and expert consultation.MORE ABOUT RUSSELL
John F. Wilkinson (JD) is an Attorney Advisor with AEquitas: The Prosecutors' Resource on Violence Against Women. As an Attorney Advisor, he presents on trial strategy, legal analysis and policy, and ethical issues related to violence against women at the local, state, national and international level. He conducts research; develops training materials, resources, and publications; and provides case consultation and technical assistance for prosecutors and allied professionals. John has presented extensively on the investigation and prosecution of domestic violence, sexual violence, stalking and human trafficking both in the United States and abroad. John's international work includes developing and implementing trainings for police, prosecutors, judges and allied professionals in national and international conferences in Cameroon, South Africa, Fiji, France, Brazil, and Egypt.Prior to working with AEquitas, John was the Program Manager for the Gun Violence Prosecution Program, Homeland Security Program and Southwest Border Crime Program of the National District Attorneys Association (NDAA) where he traveled extensively throughout the United States presenting on gun and gang violence and homeland security issues. He also regularly collaborated with the Bureau of Alcohol, Tobacco, Firearms and Explosives (ATF), Department of Homeland Security (DHS) and International Association of Chiefs of Police (IACP) to bring data-driven best practices to criminal justice professionals. Under his direction, the Homeland Security Program created a unique counter-terrorism training program for prosecutors and probation/parole officers. Additionally, his Southwest Border Crime Program created a curriculum for prosecutors and allied professionals covering all aspects of the Drug Cartel Business Model and focusing on human trafficking, human smuggling, drug and gun trafficking, home invasions and kidnappings and undocumented alien victim/witness issues.From 1998 through 2005, John served as an Assistant Commonwealth's Attorney in Fredericksburg, VA prosecuting cases involving intimate partner violence and sexual assault, including cases of campus sexual assaults and domestic violence homicide. He also served on the Fredericksburg Area Sexual Assault Response Team and prosecuted child sexual and physical abuse and neglect cases and infant homicides. He assisted in the development of the Mary Washington Hospital Sexual Assault Nurse Examiner (SANE) Program. Additionally, John competed Virginia's Top Gun Investigation and Prosecution of Drug Cases course and prosecuted numerous drug and firearms related offenses. He was a regular lecturer at the Rappahannock Regional Criminal Justice Academy and spoke at the Virginia Association of Commonwealth's Attorneys. From 1994 to 1998, John served as an Assistant Public Defender in Fredericksburg, VA representing indigent clients in matters ranging from first-degree murder to summary offenses. In 1997 he was presented the Phillip M. Sadler Award for excellence in public defense. From 1991 to 1994, John worked at the Offices of Wiliam E. Gardner in Fairfax, VA primarily engaged in criminal defense and civil litigation.John received his undergraduate degree from Virginia Tech and his law degree from the College of William and Mary Law School and is an active member of the Virginia Bar.
Dep. Mark Dishaw (Douglas County Deputy, Cyber Crimes Investigator) *bio coming soon*. As more and more things get transferred into the digital world, so does evidence. Dep. Mark Dishaw will build up the skills of attendees when they work with digital evidence.
Sgt. Ryan Phinney of the Nebraska State Patrol will be training on a case study called "He Didn't Hit Her". To the outside world, this abuser appeared to be a model citizen. However, behind closed doors the perpetrator used power and control as a form of domestic violence, but never laid a hand on his partner. This relationship sooned turned deadly when a hit man was hired to murder the victim. Learn how the truth came out, what signs to look for when evidence isn't always prominent, and how this victim was rescued from a very abusive relationship.
Mutli-Culutural Trainers: Breakout sessions focusing working with victims of crime and bringing perpetrators to justice within other cultures will also be available. Multi-Cultural Trainers will be announced soon!
MORE TRAINERS WILL BE ANNOUNCED SOON! Pre-Register to receive information on new trainers and the training conference schedule.

FAQs
How can I contact the organizer with any questions?
If you have questions about this training please email joshs@havenhousefsc.org or call 402-375-5433.
Who will benefit from this training?
All professionals who work with victims of crime will benefit from this training. This includes but is not limited to law enforcement, attorneys, prosecutors, advocates, county court employees, parole/probabtion offiers, cpa/aps Investigators, judges, and any other professions who have a desire to increase their skill sets to better serve victims of crime or bring perpetrators to justice.
Can this training be used as continued education hours for law enforcement?
We have had many law enforcement agencies share they will be using this event for their required continued education hours for 2018.
Will lunch be provided?
Yes. We will be providing a delicous on-site catered lunch for all registrants.
Will there be a cost associated with this training?
Yes, but cost will be minimal. Finalized costs for this training will be announced when registration has opened. Cost of conference will include lunch.  Cost is estimated to be $25 per day.  Final cost is dependent on corporate sponsors.
Is overnight lodging available in Wayne?
Yes there is. The Cobblestone Hotel is a local option if you are traveling from out of the area and need overnight accomodations.